E-Government and Eldy
Eldy has been customized for the Public Administration needs, with National Cards and e-government, with the goal of simplifying on line public services and increasing the comunication with citizens. 
We made a version of Eldy for Lombardy Region and Friuli Venezia Giulia Region; for cities of Vicenza, Venice, Padua and Livorno and also we customized Eldy with Diweb and for the project "Eldy ti parla" for blind and visually impaired people.
The most popular of the many localized versions is the Eldy for Lombardy Region

Click here for access to the e-government presentation
ELDY LOMBARDIA 
With Eldy Lombardy the user can write to the City, County, hospital or State through an easy interface.  You don't have to know the email address to send an email message because it's sorted automatically, and efficiently for all.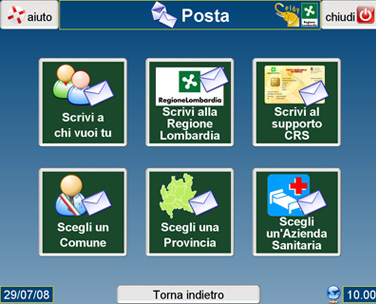 It's not necessary know the municipality e-mail to send an e-mail message because it's selected automatically : this allows a very efficient contact because it's for everyone.
Within Eldy custom for the Lombardy Region, also, the locations of Public Administration are georeferenced, allowing further developments regarding the logic closeness to the people.
Through Eldy custom, the user can  use the Regional Services Card to send digitally signed documents to the Public Administration, and also change the PIN of the Card and unlock; with a few clicks the user can access to all the websites of the PA. with a simplified mode.
LIBRARIES:
The Lombardy Region offers a multi-user version of Eldy Lombardy, suitable for over 1200 Lombardy Libraries.
HIGH SCHOOL:
Eldy was part of a specific project for High school students to receive scholarships for teaching CRS and Eldy to Senior Citizens.
ONE MILLION CDs:
Beginning on October 21, 2008  Eldy sent out 1,000.000 CD'S of the Eldy program throughout the Region, coupled with the smart card readers for Major newspapers (i.e.  Corriere della Sera)
For more references visit http://www.crs.lombardia.it/